ADA Transfer Showers For Handicap Accessibility
ADA Transfer Showers have an inside dimension of 36" x 36" to meet the ADA code requirements. Our ADA walk in showers are specially designed so that the user can transfer onto a fold down shower seat from a wheelchair parked outside the shower unit. These are the perfect models for commercial projects that require ADA compliant showers. Read more...
Showing 1 to 7 of 7 (1 Pages)
ADA Compliant Shower Stalls
Specially designed to meet ADA specifications and ADAAG Guidelines, Freedom ADA shower enclosures have a low, barrier free threshold with a maximum ½" beveled threshold for compliance. Handicapped Accessible ADA showers are a must-have for public buildings. ADA compliance provides mobility disabled individuals full access to a shower, allowing them to bathe safely and independently.
Our line of ADA compliant shower enclosures offer a selection of one-piece showers for new construction, or multi-piece units for remodeling projects. Simplify and meet all ADA requirements for your project by ordering your transfer showers complete with all accessories, including a folding shower seat, grab bars, curtain rod and more. Factory installed accessories combined with a prelevelled base and easy to install pin & slot wall system, make for an efficient and cost saving installation.
Freedom ADA compliant showers come with full wood backing and a 30 year manufacturer's warranty.
Every ADA Transfer Shower comes with either a seat side receiver flange, or the option to add a Z strip or receiver flange to meet the most current ADA codes. The following diagram illustrates the 48" clear floor space required for transfering from a wheelchair to a shower seat. ADA transfer showers should be ordered with a recessed receiver flange on the seat side to accommodate a parallel wall.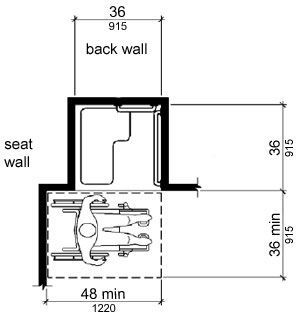 NOTE: ADA Transfer Showers are not compliant in California
Call Freedom Showers™ Expert Customer Service Team
If you are a homeowner planning for current or future accessibility needs, call our expert customer service team to experience the high-quality, customizable options in handicapped accessible ADA bathrooms, and Transfer shower units.
Making Independence a Reality | Freedom Showers™
Please don't hesitate to call us at 1-877-947-7769