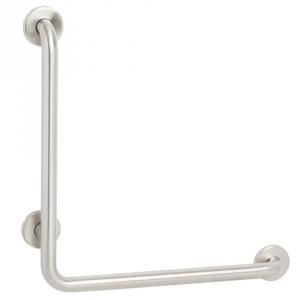 900mm x 900mm L-Shaped Grab Bar, Stainless Steel, LEFT Hand, Ontario Building Code Compliant
Canadian Inventory Only
Price:
US$200.00
US$159.00
Model #:
APFGSVL-360360HCR
Product Highlights:
Support & Style in a Stainless Steel Grab Bar
36" Horizontal by 36" Vertical, 1 ½" Diameter
Left-hand Configuration, Ontario Building Code
Canadian Inventory Only
Product Overview
High-quality stainless steel, L-shaped grabbars are 36" horizontal by 36" vertical. With a 1½" diameter, these grab bars have a clean satin finish. Order these sturdy grab bars in a Left or Right-hand configuration.
L-shaped grab bars comply and exceed federal guidelines when properly installed. Meet Ontario Building code amendments requiring an L-shaped grab bar in public buildings by ordering from our Canadian stock.
Grab Bar Features:
36" vertical by 36" horizontal dimensions
1½" diameter
Left hand configuration (Right also available)
L-shaped for Ontario Building code compliance
Made of Stainless Steel
Clean satin stainless finish
How the Ontario Building Code changes affect barrier-free washrooms
From the website at mah.gov.on.ca
"On December 27, 2013, Ontario Regulation 368/13 was filed to amend the new 2012 Building Code, O.Reg. 332/12.The effective date of the amendment is January 1, 2015."
Regarding barrier-free washrooms, the key changes include:
Requirements for power door operators at the entrance door to all barrier-free and universal washrooms Amended mounting height and location requirements for washroom accessories such as towel dispensers and hand dryers
New fold-down grab bar design options to allow for transfer space on both sides of the water closet
Requiring an L-shaped grab bar in all cases and removing the option to provide a diagonal grab bar
Increased minimum clear floor area in barrier-free washroom stalls required to allow for turning space
At least one universal toilet room would also be required in all buildings, and, for multi-storey buildings, at least one for every three floors.
Space for an adult change table will have to be provided in all universal toilet rooms except in buildings under 300 square metres in building area.
The code for Showers and Bathtubs
ONTARIO REGULATION 191/14 made under the BUILDING CODE ACT,
Amending O. Reg. 332/12 (BUILDING CODE)
3.8.3.13. Showers and Bathtubs
(2) A barrier-free shower required by Sentence (1) shall...
(f) have a wall mounted continuous L-shaped grab bar conforming to Sentence 3.8.3.8.(7) located on the same wall as the controls, with the horizontal component of the grab bar,
(i) mounted not more than 850 mm above the finished floor, and
(ii) located so that the end of the horizontal component is within 100 mm from the edge of the shower seat,
(4) Individual bathtubs that are provided for the use of patients or residents in buildings of Group B, Division 2 or 3 occupancy shall have...
(c) unless the bathtub is free-standing, a continuous L-shaped grab bar conforming to Sentence 3.8.3.8.(7) with 900 mm long horizontal and vertical components mounted with,
(i) the horizontal component located not less than 150 mm and not more than 200 mm above and parallel to the rim of the bathtub, and
(ii) the vertical component located not less than 300 mm and not more than 450 mm from the control end of the bathtub...