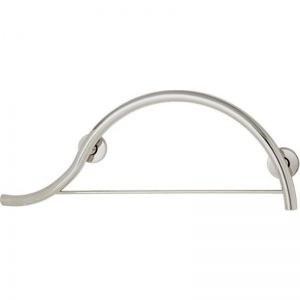 Piano Curved Grab Bar with Towel Bar 30" x 1¼", Satin Stainless
Model #:
APFGWLR3730QCR-SS
Product Highlights:
Stylish & Functional Freedom Towel Grab Bar
30" Piano Curved Grab Bar with Satin Finish
Available in Left- or Right-Hand Configurations
Install Outside the Shower or Bathtub for Support
(Customize Quote by Choosing Desired Options)
Product Overview
Freedom Piano Curved Grab Bars integrate a towel bar for an elegant curved design that offers style, support, and functionality. The dual purpose Freedom Piano towel bar is the perfect addition to any bathroom. These bars are made of stainless steel for support, and a satin stainless finish for sophisticated style.
Sophisticated Bathroom Grab Bar
Install piano bathroom bars just outside the shower or bathtub to provide a secure handle when exiting. Freedom grab bars meet and exceed the federal guidelines when properly installed and are available in left- and right-hand configurations.
Freedom Piano Grab Bar Features:
Size 30" x 1.25"
Satin Stainless finish
Integrated towel bar
Available in left- or right-hand