Testimonials
As a contractor I'm generally nervous when a homeowner finds a product and insists on using it when I have no knowledge of the product. Reluctently, I ordered this Freedom Shower complete with the accessory kit. I was VERY impressed. When the delivery truck arrived 10 days after I placed the order, the way the shower was packed and undamaged, to the installation and use...WOW. This shower is amazing and I will be recommending it to any of my customers who can benefit from this type of unit...Perfectly crafted.
Brent D, Contractor. Endicott, NY
Awesome shower! My 91 year old father loves it and does not have to take a bath from the sink any longer. It is perfect! Customer service was great, and we are very happy with your company.
The shower came today. It looks great. The service has been exceptional. You knew exactly how to help with ordering and walked me through each step. The product was ready in a much shorter time than expected. And the delivery company was friendly and on time. This is uncommon service in this day and age. I have come to expect problems, but that was not the case with your company. I wanted you to know how pleased I am. Thank you,
"We have used different ADA shower pans, however we like the Freedom 38"x38" ADA shower pan because it is the only barrier free pan that fits the space and allows us to be compliant with the 36"x36" inside dimension required by the ADA. We tried a 39"x39" pan from another vendor and it gave us a big problem. Our orders were delivered on time and the quality was very good."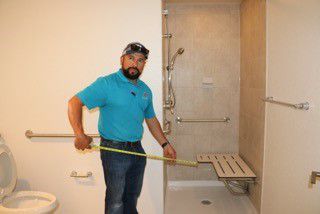 Hi Marie! Just wanted to tell you again how pleased we are with our new shower. My husband, a right above knee amputee, is even able to shower standing up for a short time using the custom grab bars. It is a first for him in almost 4 years! He loves the adjustable shower head and the seat is great. I like the increased showering space, too. Your customer service was great and I would recommend your company to anyone looking for a specialty shower unit. Thank you.
Barb Meyer, Gainesville, NY
Very good experience right from the start. Your staff was knowledgeable, courteous, efficient, and thorough. The product was delivered ahead of schedule - and that's always good. I'll be back.

I would definitely recommend my new shower that I purchased from you. I have finally enjoyed taking showers now as it Is so spacious and SAFE. My son-in-law installed it and did a perfect job with it...I appreciate your customer care and concern. Thank you,
Carole Amandola, Tampa, Fl
Hi Accessibility Pro, Please forward this to a sales manager - I was in tight spot this week, needing parts for an install in order to pass an inspection for a big construction project. Hayley Cornelius helped get me the parts quickly and very diligently and I wanted to extend my appreciation to her manager. Her help really saved us, and it was great to see from a sales rep I had previously had no relationship with. Happy Holidays,
Anthony P., Method Construction, Chicago, IL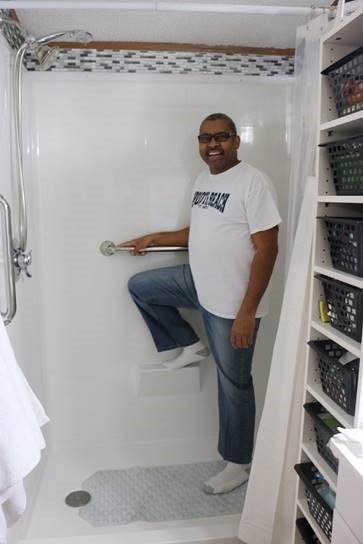 After searching the internet for a shower stall that was 54" wide, we came across Accessibility Professionals. I called and was treated with respect from a live human being named Andrew who sent a quote. We placed the order the next day. We received our boxes with our shower in it in record time delivered by a freight company. From the moment we opened the boxes to inspect it we knew we made the right decision to spend the money to get such a quality product. Our handymen were amazed at how easy it was to put together. We made them watch the video before install after giving them a few days with the instructions. The process was easy and the shower looks fantastic. We are so pleased with it. We are in our 50s and wanted our remodel to include accessibility features for the future so we also had grab bars installed as well as a shower head that was removable. We are really pleased with our shower and recommend it to anyone.
I felt heard as a customer, she listened and understood what I wanted. Sent quotes and info immediately. Wish more companies were like you. Everyone is impressed with my shower. Thank you.
MIllie Pilchard, Pocomoke City, MD
We never had ordered pre-fabricated home improvement products online before. We did a lot of research into Freedom Showers, its reputation, quality and value. We looked high and low online, for negative reviews, evidence of fraud, etc., but found none whatsoever). Still with considerable trepidation, we came ultimately to order a accessible shower stall system from Freedom Showers.
The ordering process was surprisingly easy. After short email exchange and a couple of conversations with Marie and others on their extremely knowledgeable and helpful sales team, we lined up a contractor and waited for delivery. That process went much better than anticipated, as our shower stall system arrived more than a week earlier than promised. The shipment was correct the first time, and arrived packaged compactly and in perfect condition. This was despite the company being Canadian and us being in the USA.
Our contractor found installation to be simple and straight forward, and considerably easier than he had expected or budgeted. Even when a minor question arose during installation, it was answered quickly, competently, courteously and accurately. The installation looks professional in every respect, with no outward sign that it was assembled from a kit. The entire experience of being a Freedom Showers customer could not have been more perfect. We'd recommend Freedom Showers without hesitation or reservation.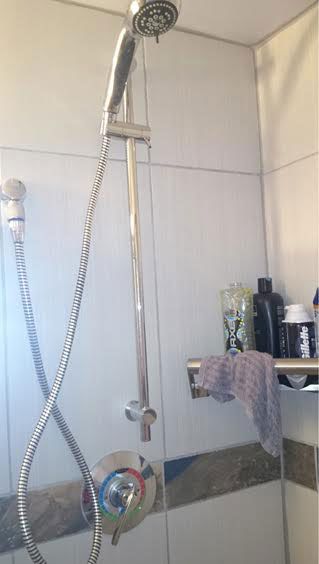 I just finished installing your products in the shower of my new bathroom. As you can see from the attached pictures the shower valve, slide bar and shelf grab bar look great and because of the great quality work effortlessly. Thanks Accessibility Professionals.
My experience with your company was everything it should have been. The staff that assisted me was knowledgeable about the products, the price was competitive, the quote was delivered promptly and making a few changes was very simple. Lastly, the delivery was on time and my experience overall was a good one. We will use your company in the future.
"He only has one leg and couldn't get into the tub. Since the Freedom Shower was installed Bobby can get into the shower in his wheelchair now. It's been very helpful to him. We both use the shower, and we like it just fine." -Olive is 91, and had a Freedom Shower installed for her son Bobby, who is 71.
Very pleased with products. The homeowners were very pleased. They realized the value of what they had paid for when they saw it.
Robert , Ashburnham Plumbing
We finished the job that we had purchased the shower enclosure from you for. The client is very happy and so are we. Working with your company was great - there were no problems and the unit went in as described in the instructions. The young man who will be using the bathroom is now capable of being in the bathroom by himself and having that new-found sense of independence. Should we need any handicap accessible products in the future we will definitely call on your company.
Daniel G., Distinctive Builders
Thank you very much for the lift gate credit and the prompt processing of that. I'm impressed with both the quality of the shower unit and the good customer service receive from both you and Hayley and will gladly continue doing business with your company in the future.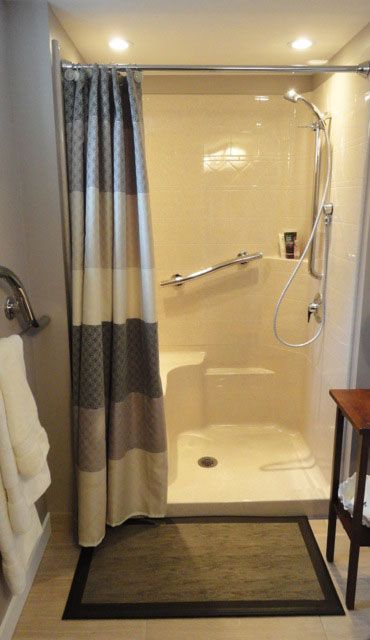 Last month we had a Freedom easy step shower installed as part of our renovation to make our home more accessible as we get older. We ordered it in the Ashley finish and it is just beautiful. We are really happy with the molded seat and I love the grab bars. Everyone that I spoke to at Accessibility Professionals was very kind and helpful through the order process. Thank you so much.
Kathleen and Harry, Bolton ON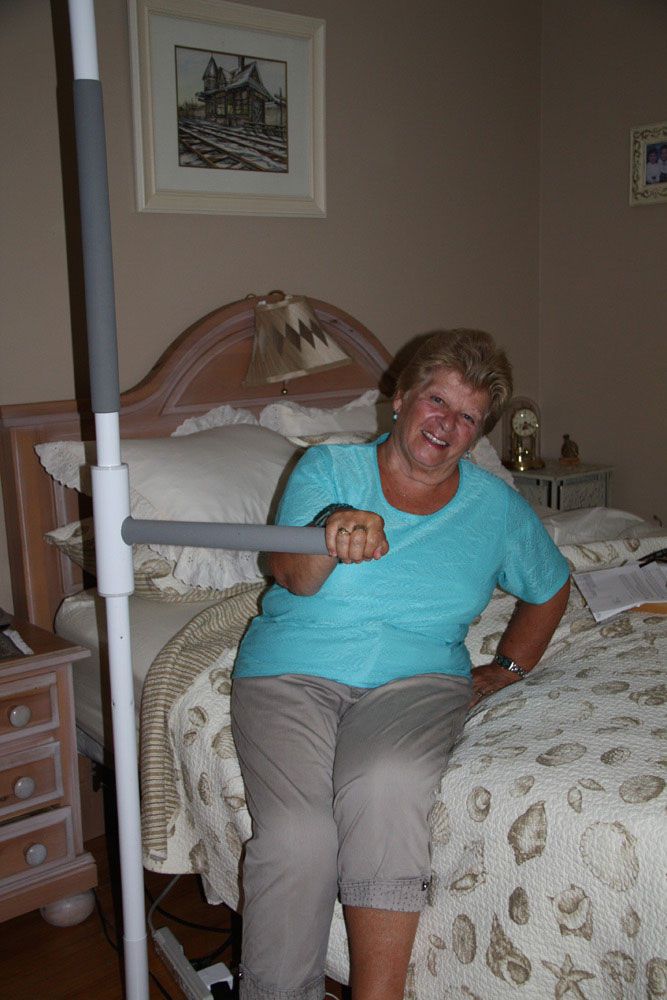 I am very happy with my support pole. I ordered it when I was having some severe back pain in the spring. It was my only way to pull myself out of bed. I was happy with the friendly service from Accessibility Professionals.
Sorry, I don't have any photos of the finished product right now, however, the unit you provided was easy to install and worked beautifully. I will remember your company for future accessibility needs. There was always someone willing to talk to me and help me with the product I needed for my specific installation needs. It was a great experience. Thank you so much for your help.
We received and installed our first shower from you and are impressed with the sturdy quality and the (wood) backed walls. I received good phone support each time I called in advance of the order and, when I came up one end cap short on the collapsible dam (I think we threw it away in the packing) you guys sent one out right away to replace it. I do work through the Veterans Administration for disabled vets using HSSA grants and this type of set up is what most of these guys need. Thanks for creating a quality product.
Kimberly H, George Hess Construction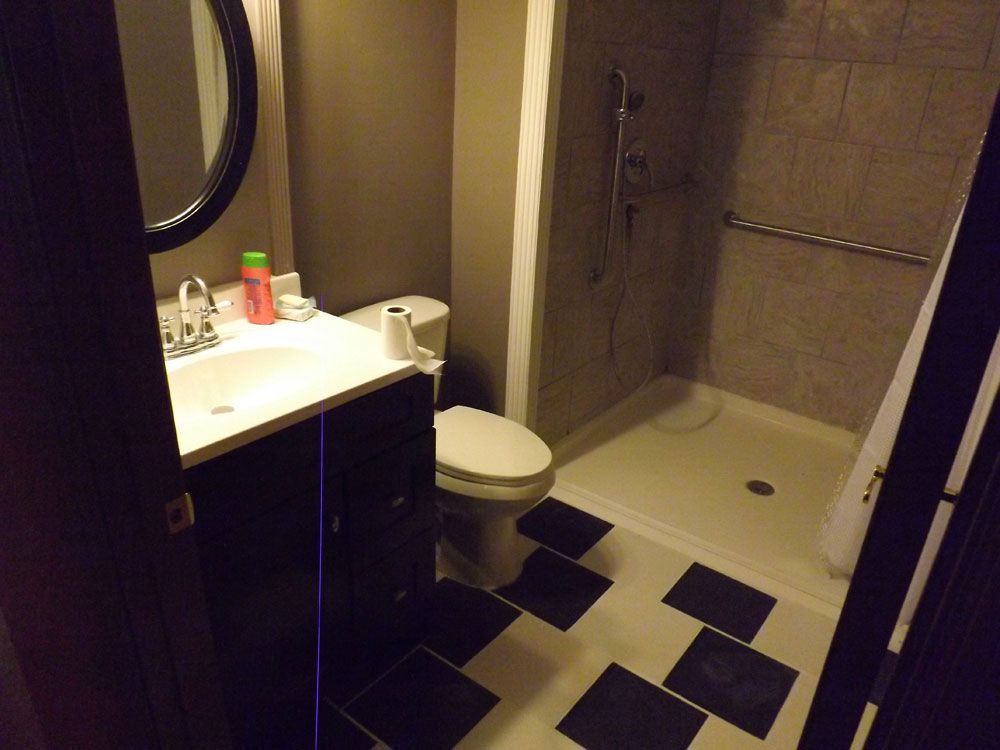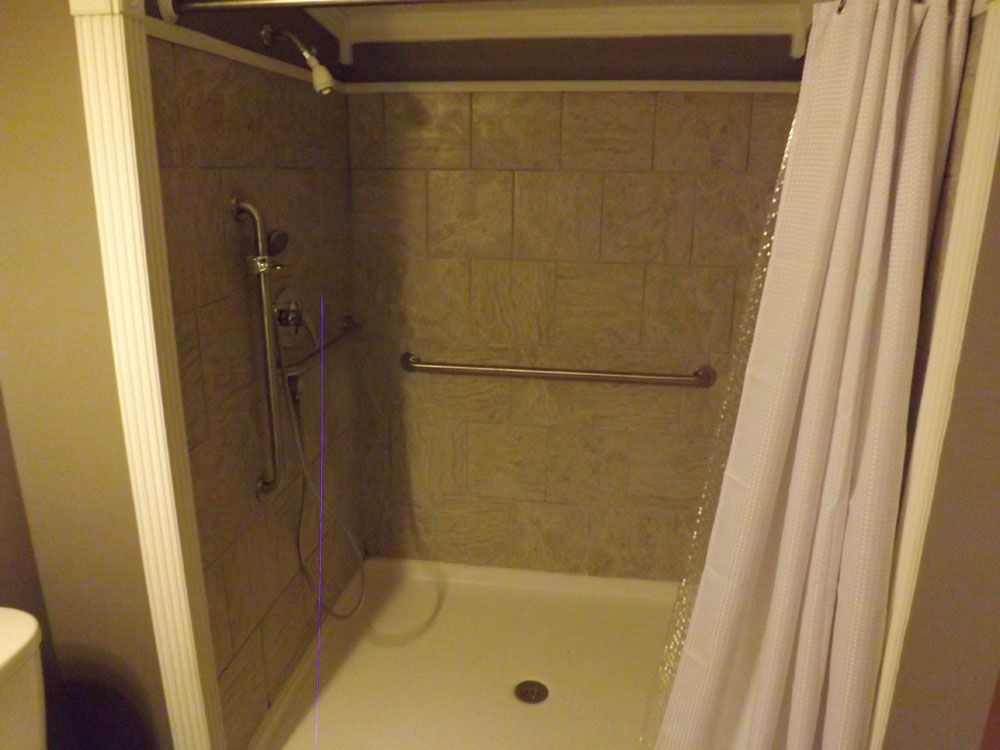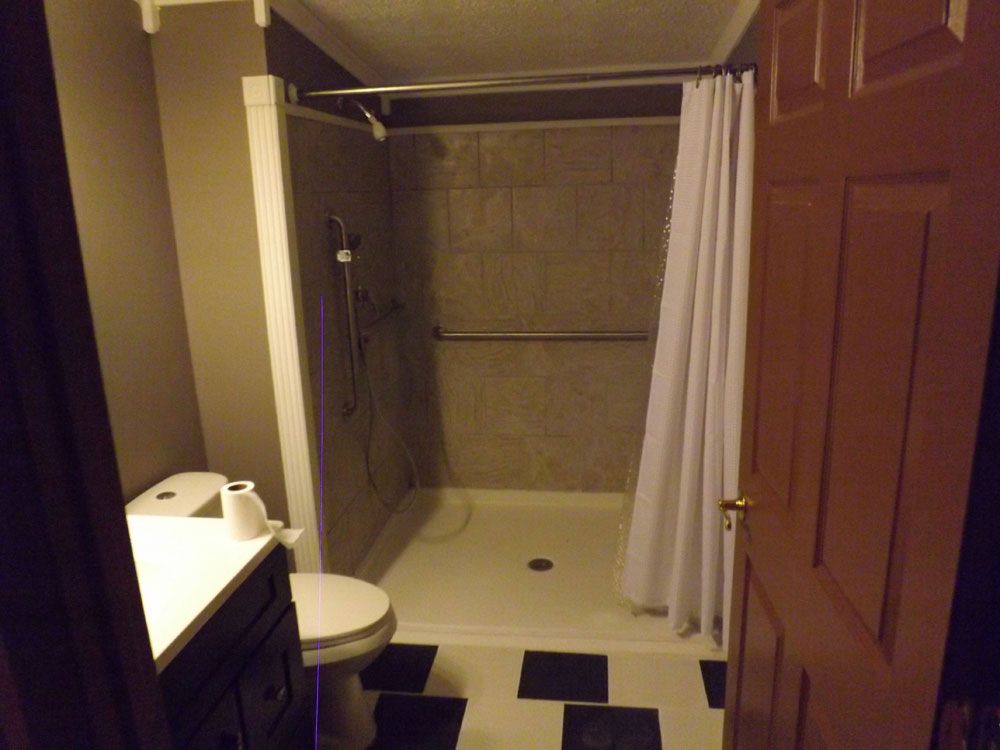 Thank you for the excellent customer service and product shipping and delivery in a timely matter. Your products installed easily and looks very nice. I have photos of the shower unit that was recently completed using your 60" x 48" barrier free base and accessories. Thank you again for your help. Also note I am quoting another project using the same products. Hope to have project this fall. Thank you.
Thank you for the instant reply on my questions on the installation of the flange and the gasket. I appreciate your great customer service. I will recommend your company if people inquire about ADA Freedom Showers. Thank you and have a Good Day, A satisfied customer
I have nothing but positive things to say regarding my recent order and experience with your team. Everyone I dealt with was professional, courteous and helpful, all the way to the delivery guy, who was very friendly even though had to face some pretty bad driving conditions to get the shower here! I found the shower that I purchased at your website, which was very clear. The shower itself, which is very sturdy, was the only one I could find anywhere that was the size I needed; the fact that the purchase price was reasonable made the experience even better. Thank you for all of your help!
Christopher B Buffalo, NY
To say that I love my new shower is a gross understatement. I LOVE MY NEW SHOWER! I had a massive garden tub that I had been unable to use for years due to problems with my knees. My home is built on a concrete slab. I had a separate shower but had to step up two steps to get into it. I hired a contractor and he removed the tub and shower (which he made into a closet) and installed my shower. It has made a HUGE difference for me. Everybody that sees it (and I've been showing it off a lot) loves it.
When the shower arrived it had all the pieces needed. The delivery truck driver wheeled it to my carport in the pouring rain. I am really enjoying the shower and look forward to getting into it each day. THANK YOU! THANK YOU! THANK YOU!!!
A quality product... I liked that you had a large selection which allowed us to find a product that fit our needs. I feel we made the right choice in choosing your company.
The contractor I hired could not believe the quality of your product. The installation and spec sheets were spot on. The resident who is using it is very thankful to all involved.
The construction of the unit was solid. [The Freedom Shower] was designed to go together well and the shower came faster than I expected.
I was looking for a better product for my clients, when I found Accessibility Professionals. I was able to go to the factory to pick up my first ADA shower and was given a tour of the factory and was very impressed on how well the showers were made.
Freedom Showers save me time and money. The clients are impressed with the total job, They can't believe they have a product so grand in their bathroom. No more falling into the tub. The order service is great. The product is wonderful. I'm sticking with Accessibility Professionals for a very long time.
Showing 1 to 29 of 29 (1 Pages)